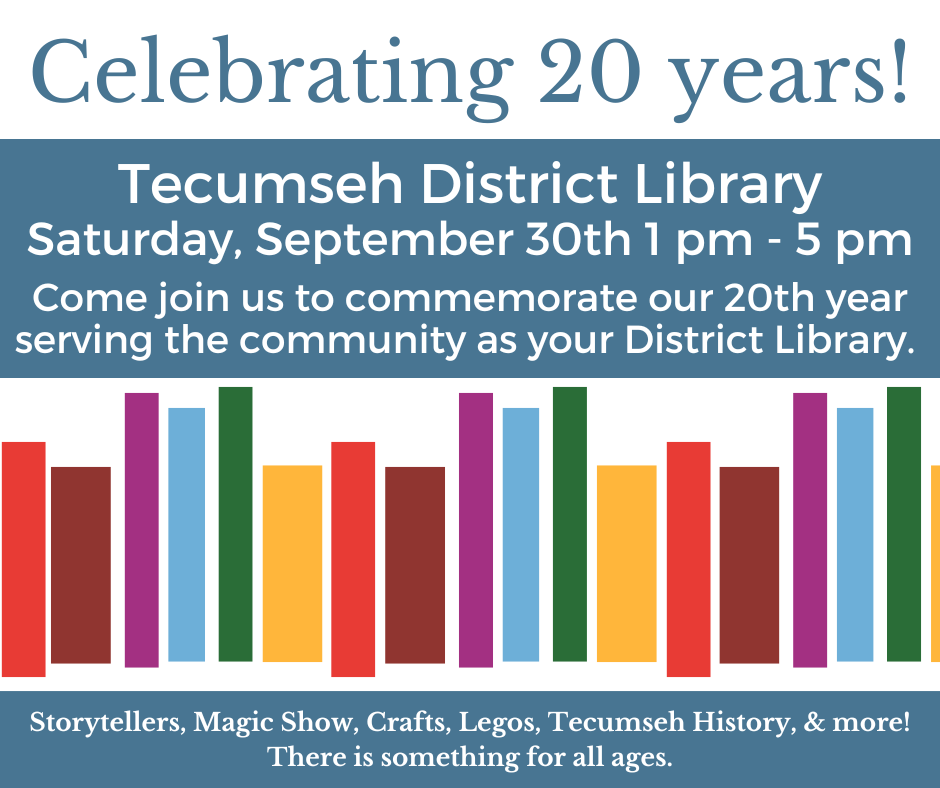 Board of Trustees Meeting
Tuesday, October 17, 2023 at 5:30 p.m. at TDL
The next Board Meeting will be held at Tecumseh District Library on Tuesday, October 17, 2023, and will begin at 5:30 p.m. Members of the public are welcome at the meeting.
Click here to view the agenda for the September 19, 2023 Board Meeting.
TPS Digital Library Card
Did you know we have a Digital Card available for all students and staff at Tecumseh Public Schools? It provides access to these digital resources: Overdrive/Libby, Tutor.com, Mango Languages, America's News, Ancestry Library, and more. If interested, go to the Event tab and register for this free card using your name and TPS email address. You'll also need to choose a PIN. (Students and staff who already have a Tecumseh District Library card already have access to our digital resources.)
Donation Guidelines
Tecumseh District Library does accept donations, but donated items must be in good condition.
Donated books are added to the collection, sold at the Friends book sale or placed on a free cart for patrons to take. We do not accept encyclopedias, magazines, CDs or VHS tapes, or Readers Digest Condensed books.
Smaller quantities of donated items (under 10 items) may be placed in the book drop. For larger donations, please call the library at 517-423-2238 to make arrangements.
For more information on donations click here.
20th Celebration Schedule of Events
1:30 to 2:00 p.m. Mike Cox - Storyteller
2:15 to 2:45 p.m. IlluminaTe Dance Troupe
3:00 to 3:30 p.m. Ashley Chase - History of Tecumseh
4:00 to 5:00 p.m. Cameron Zvara - Magic Show
All-day activities from 1 to 5 p.m.
Friendship Bracelets

Lego Activities

Outdoor Jenga & Cornhole

Popcorn and Lemonade
Helpful Websites
TDL Community Survey is sponsored by:
QuestionPro offers a suite of features and question types - all for free. We now can run unlimited surveys and gather unlimited responses!
1KB4Kindergarten
Welcome to a free early literacy program which encourages you to read 1,000 books with your child before he or she begins kindergarten! Click HERE for full details!
PAGE TURNERS
Tecumseh District Library offers children an opportunity to read aloud
to a friendly Staff Member for 30 minutes in or near the Children's Area.
Their parent will remain in the building during this time.
Click HERE for complete details!