We're Hiring!
The Tecumseh District Library has an opening for a part-time library assistant. The position averages 30 hours per week and includes weekends and evenings on a rotating basis. Duties include circulation desk shifts, reference desk shifts, processing of materials, and library interloan responsibilities.
Applicants should submit their resume and cover letter to: sbach@tecumsehlibrary.org
Summer Reading Program
For more information on our Summer Reading Program, follow this link and scroll down: http://www.eventkeeper.com/mars/xpages/t/tecumseh/ek.cfm?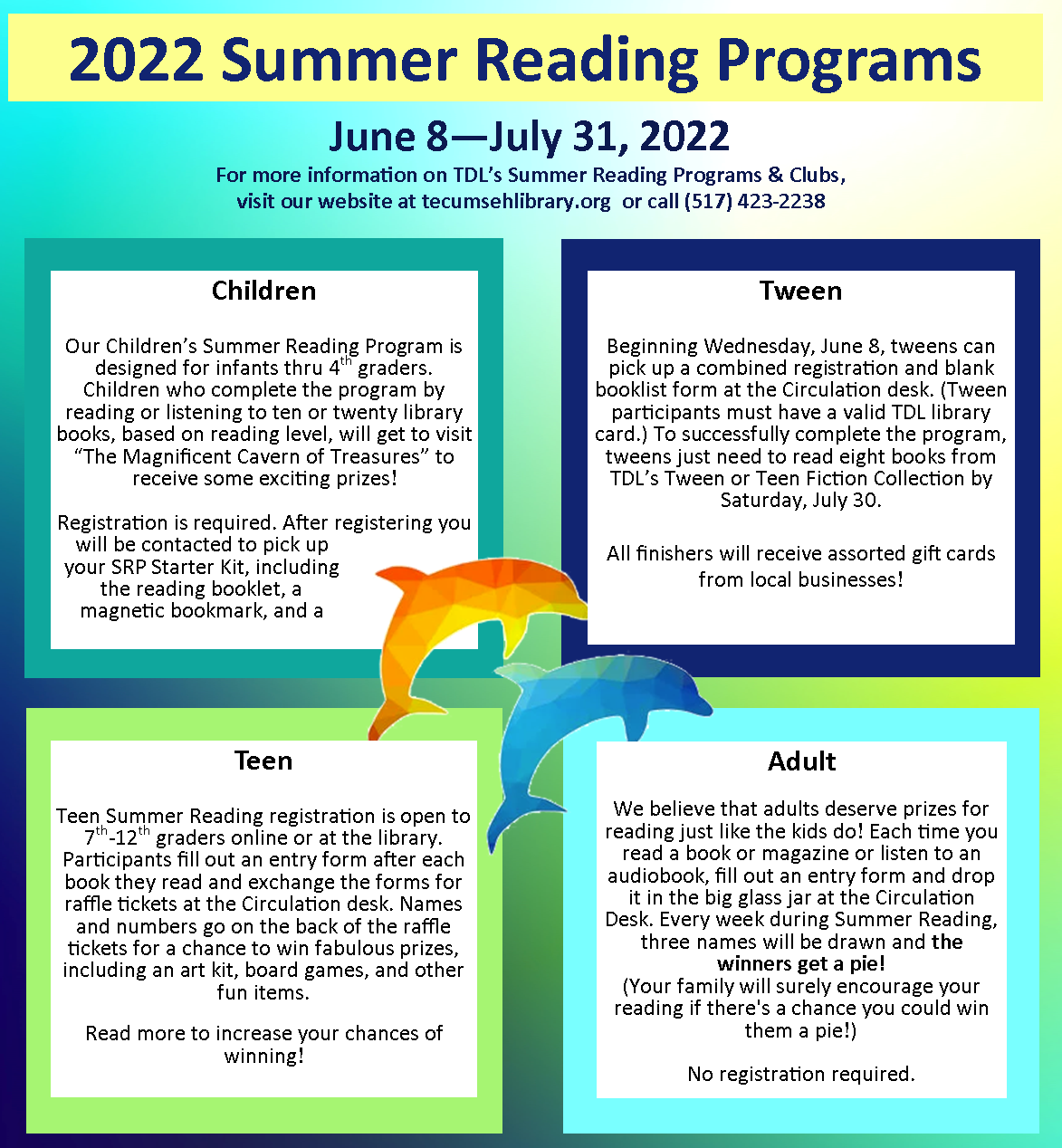 Board of Trustees Meeting
Tuesday, July 19, 2022 at 5:30 p.m. at TDL
The next Board Meeting will be held at Tecumseh District Library on Tuesday, July 19, 2022, and will begin at 5:30 p.m. Members of the public are welcome at the meeting.
Click here to view the agenda for the June 21, 2022 Board Meeting.
Donation Guidelines
Tecumseh District Library does accept donations, but donated items must be in good condition.
Donated books are added to the collection, sold at the Friends book sale or placed on a free cart for patrons to take. We do not accept encyclopedias, magazines, CDs or VHS tapes, or Readers Digest Condensed books.
Smaller quantities of donated items (under 10 items) may be placed in the book drop. For larger donations, please call the library at 517-423-2238 to make arrangements.
For more information on donations click here.
TPS Student Digital Card
Did you know we have a new Digital Card available for all students at TPS? It provides access to all our digital resources, such as Overdrive/Libby, America's News, Ancestry Library, etc. If interested, go to the Event tab and register for this free card using your name and TPS email address. You'll also need to choose a PIN. (Students who already have a Tecumseh District Library card already have access to our digital resources.)
1KB4Kindergarten
Introducing a new free early literacy program which encourages you to read 1,000 books with your child before he or she begins kindergarten! Click HERE for full details!
Summer Reading Program for Children
2022 Children's Summer Reading Program
Wednesday, June 8th – Saturday, July 30th
Click HERE for more details and registration information!