The Apple Orchard
Author: Susan Wiggs
Call #: CD - FIC WIG
Reviewer: Rita Miller

The setting for The Apple Orchard takes place in what the author describes in whimsical detail. She takes her time to let the beautiful details come together to make you feel as if you can actually picture this peaceful sleepy town. The beautiful place in Sonoma town called Archangel is home to a family rich in history as old as the 100 acre apple orchard it grows on. Tess Delaney, an Antique Dealer, who lives a very different lifestyle of no strings, no attachments, finds her way to Archangel and all it has to offer. It reveals many unknowns and family secrets which Tess is not expecting to learn or even be part of. So she believes... Time spent at Archangel is a great teacher for Tess helping her to realize that learning to be part of a family filled with love and great food is all that really counts in life.
Delicious seasonal recipes are shared with readers throughout this delightful story. I look forward to the sequel, The Bee Keeper's Ball, which will continue this wonderful story at Bella Vista.
---
And the answer is...
Author: Alex Trebek
Call #: CD 921 TRE
Reviewer: Sonja Downey
At long last, Alex Trebek allows his faithful fans glimpses into his life. In short essays Alex outlines scenes of his life and grants the reader a few hitherto unknown tidbits about himself. Who would have thought that Alex Trebek is an accomplished handyman and fixes pretty much everything around his house? Or - and that may come as a shock - Alex Trebek swears!
The audio book is read by Alex Trebek himself with support from Ken Jennings, one of the most famous champions on Jeopardy. It is very entertaining to listen to and has the feel of a coffee hour with the famous show host and his friend. I enjoyed it thoroughly.
---
The Honey-Don't List
Author: Christina Lauren
Call#: FIC LAU
Reviewer: Sonja Downey
Carey Duncan works night and day for the home improvement power couple Melissa and Russel Tripp. Their seemingly blissful marriage is going downhill in direct proportion to their sky-rocketing success. James McCann is looking forward to a job as engineer on the home improvement set but finds himself instead personal assistant to Russell Tripp.
Due to insinuating circumstances neither of them can afford to quit and just simply walk away. So, when a one week book tour looms over them, and they find themselves crammed into a small tour bus with the quarrelling couple, what else is there to do to stay sane other than to spread love....lots of love!
What a wonderful, uplifting and funny read. Here is a romance novel that is fresh, modern and absolutely relatable. The dialogues are witty and fun and the conflict between hero and heroine are very well thought out and realistic. This author duo never disappoints and has landed another fabulous story.
---
The Poet's Dog
by Patricia MacLachlan, a Newbery Medal winning author
Call Number: J FIC MAC
Reviewer: Mary Beth Reasoner, Children's Librarian
This gentle chapter book really had an impact on me and lingered in my memory for quite a while. Part of the reason is that the story is short enough to be read in one sitting, so the plot, the characters, the dialogue, and the setting stayed with me as a whole experience without interruption.
Here's the summary of the poignant story about the relationship between two children, a poet, and a dog, and how they help one another survive loss and recapture love.
Teddy is a gifted dog. Raised in a cabin by a poet named Sylvan, he grew up listening to sonnets read aloud and the comforting clicking of a keyboard. Although Teddy understands words, Sylvan always told him there are only two kinds of people in the world who can hear Teddy speak: poets and children.
Then one day Teddy learns that Sylvan was right. When Teddy finds Nickel and Flora trapped in a snowstorm, he tells them that he will bring them home--and they understand him. The children are afraid of the howling wind, but not of Teddy's words. They follow him to a cabin in the woods, where the dog used to live with Sylvan . . . only now his owner is gone.
As they hole up in the cabin for shelter, Teddy is flooded with memories of Sylvan. What will Teddy do when his new friends go home? Can they help one another find what they have lost?
---
Meet Me at the Museum
Author: Anne Youngson
Call #: FIC YOU
Reviewer: Sonja Downey
Tina Hopgood, disenchanted British housewife, is trying to connect with her past by writing a letter to Professor P.V. Glob. Unfortunately Prof. Glob is no longer alive and her letter is answered by Prof. Anders Larsen. Grappling with the loss of his wife, Prof. Larsen is also fighting the demons of his past. Anders and Tina engage in a penpalship which slowly progresses into deep friendship.
This is a breathtakingly beautiful book in content and language. The historical facts about the Tollund Man in Denmark were extremely fascinating. The story evolved with such slow tenderness. Each letter Tina and Anders exchanged brought more food for thought and so the book carried on long after the last letter ended.
---
The Infamous Ratsos

by Kara LaReau
A Theodore Seuss Geisel Honor Book
Call Number: J FIC LAR
Reviewer: Mary Beth Reasoner, Children's Librarian

Although the title and cover graphic may not be the most inviting,
this early reader chapter book is great! I loved it! It is so funny!
(I cannot wait to read the sequel - The Infamous Ratsos are not afraid!

Here's the summary:
Louie and Ralphie Ratso's dad, Big Lou, always says that there are two kinds of people:
those who are tough and those who are soft. Louie and Ralphie are tough, tough, tough, just like Big Lou,
and they're going to prove it. But every time they try to show just how tough they are,
the Ratso brothers end up accidentally doing good deeds instead.
What'll Big Lou do when he finds out they've been acting like softies all over the Big City?
Perfect for emerging and reluctant readers, this clever and surprisingly warmhearted chapter book
shows that being tough all the time can be really tough.
---
A Quiet Place in the Country

Author: T.E. Kinsey
Call #: CD-FIC KIN
Reviewer: Sonja Downey

Lady Hardcastle is a slightly eccentric widow in Edwardian England. Her maid and best friend, Florence Armstrong - known for her mean right fist - tries to keep her on track; more or less successfully. After a harrowing event in China the pair is moving to the English countryside for some well-deserved peace and quiet. But before they can settle in properly this dream is shattered by the discovery of a dead body in the woods.

This is a delightful mystery series made even better by the voice talent of critically acclaimed British actress, Elizabeth Knowelden. Ms. Knowelden brings each character to life with a wide range of accents, dialects and nuances. A wonderful treat for mind and ears!

TDL owns the entire Lady Hardcastle Series on Audio. The titles in order are:
A Quiet Place in the Country
In the Market for Murder
Death around the Bend
A Picture of Murder
The Burning Issue of the Day
Death Beside the Seaside
---
Children's DVDs
CHILDREN'S DVDs
Mary Beth Reasoner
Children's Librarian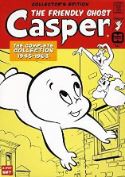 The Children's DVD Collection contains
stories, documentaries, and cartoons
of current interest as well as favorites from the past!

SAVING FIONA
This is the amazing true story of Fiona, the baby hippo born prematurely at the Cincinnati Zoo, the team that nursed her back to health, and the community who loves her.

CASPER THE FRIENDLY GHOST
Follow Casper's misadventures as he scares most adults he encounters, but delights babies and animals;
includes all 81 short films and episodes of "The New Casper Cartoon Show" made between 1945 -1963.

SCAREDY SQUIRREL
Scaredy Squirrel never leaves his nut tree. It's way too dangerous out there! But one day his worst nightmare comes true and he finds himself out of his tree and discovers something really surprising.
(I love Scaredy Squirrel and how he ends up dealing with his phobias! Very funny!)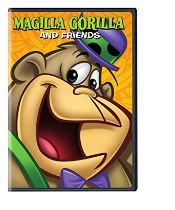 PINKALICIOUS & PETERRIFIC: PINKAMAGINE IT!
Follow Pinkalicious and her brother Peter on their adventures in the town of Pinkville!
This animated series, based on the beloved books by Victoria Kann,
encourages children to engage in self-expression
and to explore the arts, including music, dance, and visual arts.

MAGILLA GORILLA AND FRIENDS
Direct from Mr. Peeble's Pet Shop habitat, Magilla Gorilla swings into action in this hilarious collection. Showing that primates and humans share similar situations, Magilla becomes an Army draftee,
a football player, a movie star and more. It's chock full of silly predicam
---
The Handmaid's Tale
Author: Margaret Atwood with art & adaptation by Renee Nault
Call #: GN NAU
Reviewer: Chuck Harpst

In Margaret Atwood's dystopian future, environmental disasters and declining birthrates have led to a Second American Civil War. The result is the rise of the Republic of Gilead, a totalitarian regime that enforces rigid social roles and enslaves the few remaining fertile women. Offred is one of these, a handmaid bound to produce children for one of Gilead's commanders. Deprived of her husband, her child, her freedom, and even her own name, Offred clings to her memories and her will to survive. At once a scathing satire, an ominous warning, and a tour de force of narrative suspense, The Handmaid's Tale is a modern classic.

This captivating page-turner kept me on the edge of my seat hoping that Offred would be able to escape from the clutches of the military regime and once again find happiness. If you enjoy reading action-packed stories full of suspense, this is the book for you.
---
The Prince and the Dressmaker
Author: Jen Wang
Call Number: GN WAN
Reviewer: Amanda Fields

This is a charming story about a seamstress who dreams of being a world-renowned fashion designer and a prince who wants to gain a bit of freedom from his royal obligations by wearing beautiful dresses as the Lady Crystallia. The artwork is so colorful and really brings the stunning fashion designs to life. I keep picking this book up whenever I want a fun, heart-warming story.
---
How Long 'Til Black Future Month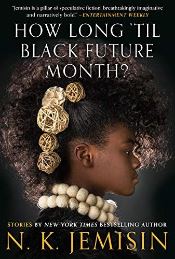 Author: N.K. Jemisin
Call Number: Available through MeL
Reviewer: Elizabeth Allen

Spirits haunt the flooded streets of New Orleans in the aftermath of Hurricane Katrina. In a parallel universe, a utopian society watches our world, trying to learn from our mistakes. A black mother in the Jim Crow South must save her daughter from a fey offering impossible promises. And in the Hugo award-nominated short story "The City Born Great," a young street kid fights to give birth to an old metropolis's soul. This short story collection from three-time Hugo Award winner N.K. Jemisin explores worlds filled with magic and, like all good speculative fiction, asks us to question the essence of our world and the nature of humanity. This collection features worlds and experiences that are alien, frightening, strange, and awe-inspiring but also in many ways familiar, diverse, resilient, and full of hope. I recommend this collection to anyone that enjoyed her award-winning Broken Earth trilogy (the story "Stone Eater" will be familiar), fans of sci-fi and fantasy, and anyone who loves stories that stick with them for weeks afterwards.
---
The Hunting Party

Author: Lucy Foley
Call #: CD FIC FOL
Reviewer: Sonja Downey

Here is a fantastic thriller just right for a cold and windy November night. A group of rich and spoiled London friends meets at a Scottish highland resort to spend New Year's together. When one of them is found dead in a ravine, their friendship starts to unravel quickly as secrets come to light and suspicion grows among them. The raging snow storm that prevents the police from coming to the resort does not help matters at all and so it is up to the staff to prevent another murder from happening.

This audio book is brilliantly performed by a full cast. I loved the different dialects and accents of each character. This is a well-thought-out, suspenseful murder mystery with plenty of suspects, twists and turns and the gorgeous Scottish highlands for a backdrop.
---
Leo Lionni's Friends
BOARD BOOK series: Leo Lionni's Friends
Reviewer: Mrs. Reasoner, Children's Librarian

Leo Lionni is a legendary children's author and illustrator.
I am delighted with this new series presented in the Board Book format (with sturdy pages)
for our younger patrons! The illustrations are full of colorful details.
A LITTLE BOOK ABOUT SPRING
Spring is a time of budding trees, chirping birds, and croaking frogs.
Discover the wonders of spring!
A LITTLE BOOK ABOUT COLORS
Each doublespread reveals the color name in its color along with the traditional Lionni mice illustrating the color.
(GREEN: A crisp, crunchy pickle. PINK: Bubble gum that pops on your nose)
A LITTLE BOOK ABOUT ABCs
The traditional Lionni mice Introduce each letter of the alphabet with delightful illustrations.
---
BOARD BOOK series: Little People, BIG DREAMS
by Isabel Sanchez Vegara
Reviewer: Mrs. Reasoner, Children's Librarian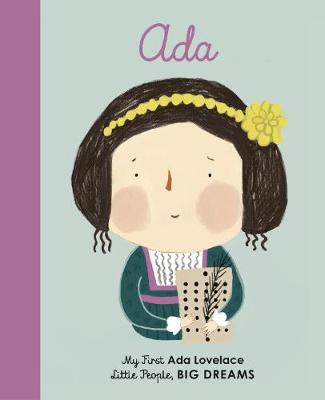 Told in simple sentences,
this series is perfect to read out loud to little dreamers.
ADA LOVELACE
Follow Ada from her childhood in England and her studies in mathematics
to her development of the first computer programming language.

AUDREY HEPBURN
Presents information about Audrey Hepburn, from her youth in Nazi-occupied Europe, through her rise to stardom in some of the era's most popular films,
to her dedication to UNICEF.

ELLA FITZGERALD
Ella Fitzgerald grew up near Harlem, in New York, where she was surrounded by music and dance. After winning first prize in a talent competition at the Apollo Theater,
she went on to tour the world with her pioneering voice.
Follow her rise to stardom as one of the top jazz singers of all time.

FRIDA KAHLO
When Frida was a teenager, a terrible road accident changed her life forever. Unable to walk, she began painting from her bed. Her self-portraits, which show her pain and grief,
but also her passion for life and instinct for survival,
have made her one of the most famous artists of the twentieth century.

Other longer titles in this series can be found
in the Juvenile Non-fiction 921 Biography section:
Agatha Christie, Amelia Earhart, Marie Curie, and Coco Chanel
---
A Room with a View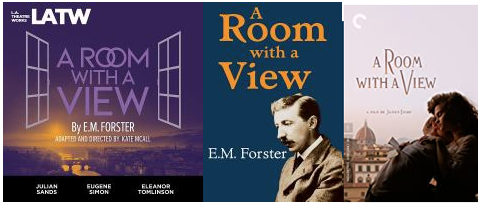 Author: E.M. Forster
Different Formats
Reviewer: Sonja Downey
We now own the L.A. Theatre Works Production of this beloved classic. This is a delightful full-cast audio production with Julian Sands (he starred in the original movie) and Elinor Tomlinson (currently starring in Poldark, Season 5 on PBS) among others.
You can indulge in a little bit of "A Room with a View" binging by listening to the theatre production, reading the book and afterwards watching the movie. TDL owns all formats.
---
Good Omens
Authors: Terry Pratchett & Neil Gaiman
Call Number: FIC GAI
Reviewer: Elizabeth Allen

There is a distinct hint of Armageddon in the air. But a somewhat fussy angel and a fast-living demon - each of whom has lived among Earth's mortals and grown rather fond of the lifestyle - are not looking forward to the coming Rapture. If Crowley and Aziraphale are going to stop it from happening, they've got to find and kill the Antichrist (which is a shame, as he's a really nice kid). There's just one glitch: someone seems to have misplaced him. I recommend this book to anyone who enjoys humor and is interested in mythology (or anyone who enjoyed the recent Amazon adaptation). This collaboration brings out the best of both Pratchett's whimsical but cutting social commentary and Gaiman's beautifully weird aesthetic.
---
The Secret of Lost Things
Author: Sheridan Hay
Call # : FIC HAY
Reviewer: Susan Bach

I like stories about books and bookstores and the people who work there, and this novel delivered all three. Rosemary Savage is a young Tasmanian girl on her own – her mother has died and she doesn't know who her father is. Thanks to the generosity of a family friend, she is given a plane ticket to NYC and the opportunity to start a new life there. By chance Rosemary wanders into a huge, messy used bookstore and knows this is where she belongs. The novel contains plenty of eccentric characters, a book-related mystery and enough book history to make it fascinating. For me, the most interesting part of the story was Rosemary's development , as she finds a job, a home, some friends, and creates a new life for herself, learning to live with the loss of her mother. The writing itself was full of rich and descriptive vocabulary – quite beautiful. Recommended for those who enjoyed The Storied Life of AJ Fikry or The Thirteenth Tale.
---
Guest Review from patron Jan Salsberry!
Michigan Mysteries
OLIVER THE READER
If you are looking for a good read, pick up any of the mystery books by Aaron Stander. Mr. Stander is originally from the Detroit area but he and his wife retired from the teaching profession and moved to a cottage near Traverse City. This is where nine of his ten mysteries are located. With titles like "Color Tour", "Summer People", "Deer Season" and "The Cruelest Month", the reader gets a sensory picture of living in Northwest lower Michigan on the Big Lake. The protagonist is Sheriff Ray Elkins who has returned to serve as Sheriff of Cedar County, Michigan. He is familiar with this area and its people. He kayaks on Lake Michigan and goes on runs to Zingermans in Ann Arbor when he has a day off (or one of his deputies has to go South). If you have spent any time in the Traverse City area, these mysteries will draw you in with their vivid descriptions of the colors and the scents of fall in Michigan as well as the snowfall, the dunes and the power of a Lake Michigan storm. And, besides vivid descriptions, Mr. Stander writes a darn good mystery. Try one, you might just get hooked.
These books are available at the Tecumseh District Library. Find them using call number X FIC STA. Aaron Stander is also the host of Michigan Writers on the Air on Interlocken Public Radio.
---
Harry's Trees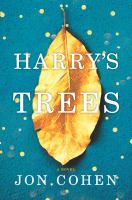 Author: John Cohen
Call #: FIC COH
Reviewer: Sonja Downey

"Every life needs a story!" Amanda and Harry are both grieving the loss of their spouses and are caught in their adult ways of coping with their tragedies. It takes 8 year-old Oriana, an old book, a librarian who won't give up and a quirky cast of characters to show Amanda and Harry, that with a little help from a whole lot of friends (and trees) there is life and love after loss. And if Oriana will succeed in lining up all stars just right, they might indeed ... live happily ever after.

This book is a gift and a treasure. I was taken away by the author's ability of writing a modern fairy tale with so much depth and credibility. His characters are so believable and the story is so magical. This book is a must for all the dreamers among us who still believe in fairy tales.
---
The Marsh King's Daughter
Author: Karen Dionne
Call #: FIC DIO (also available in Large Print LP FIC DIO)
Reviewer: Sonja Downey

Helena is seemingly leading a great life; a loving husband, two adorable girls and a small business that keeps her little family afloat. But Helena is harboring a secret she thinks she can keep locked away deep down within herself. Everything is starting to unravel when a kidnapper and murderer escapes from prison and Helena has to make a heart-rending decision. Because who will be better suited to find the Marsh King in the depth of Michigan's Upper Peninsula, then the person who knows him best, the Marsh King's Daughter!

This book left me breathless, it was so fast paced. As I read it, I could see it as a movie in my head. The author did a fabulous job describing the gorgeous, yet at times inhospitable scenery of the U.P. Ms. Dionne delivered a nail biter and a great suspense novel.
---