To celebrate the holiday season, the Tecumseh District Library is coordinating its traditional "Gift of Reading" project. This endeavor provides the Tecumseh Service Club with new books for children and teens to add to the traditional Christmas baskets of food, clothing, and toys. Our community's generous participation in this project each year is always heartwarming, especially when one realizes that many children have never been given a book to call their very own. During the 2017 holiday season, donations of 366 new books and monetary donations of $1,020 were received. The library staff looks forward to another enthusiastic response to this year's "Gift of Reading".
Area residents may participate in two ways:
Purchase new children's books and/or teen paperbacks from your favorite bookstore and bring the unwrapped books to the library's Circulation Desk between Friday, November 23rd and Friday, December 14th. (Please do not drop them off in the bookdrops.)

Send a tax-deductible check payable to the "Tecumseh Service Club" to the Tecumseh District Library, 215 North Ottawa Street, in care of "The Gift of Reading" by Friday, December 14th. Designated shoppers from the Service Club will use these donations to buy additional books for the project.
Beginning Thanksgiving weekend, the library staff will add your donated books to the Gift of Reading display near the Information Desk. In mid-December, the books will be delivered to the Tecumseh Service Club, whose volunteers will add the books to the Christmas baskets for distribution throughout the Tecumseh community.
QUESTIONS AND ANSWERS
What kinds of books are best?
Brand new books with good bindings
Because these will be treasured Christmas gifts, "hand-me-down" or "gently used" donations will not be accepted!
Picture books

Books with large print and vivid illustrations, by such authors and illustrators as Jan Brett, Eric Carle, Doreen Cronin, Mercer Mayer, Robert Munsch,
Laura Numeroff, Dav Pilkey, Patricia Polacco, Cynthia Rylant, Mo Willems, and Karma Wilson

Books about Clifford the Big Red Dog, Curious George, Elephant & Piggie, Fancy Nancy, Fly Guy, Franklin, Froggy, Henry & Mudge, Llama Llama, Pete the Cat, and Thomas the Tank Engine.

Alphabet books

Hidden picture series such as I Spy, Look-alikes, and Where's Waldo?

Sturdy, colorful board books for toddlers - always needed

Juvenile fiction

Books by popular children's authors, such as Chris Colfer, Bruce Coville, Jane O'Connor, Dav Pilkey, Johnathon Rand, Janet Tashjian, and Gertrude C. Warner

Popular juvenile series such as the Ballpark Mysteries, Galaxy Zack, Goddess Girls, Heroes in Training, Judy Moody, Land of Stories, Magic Tree House, Owl Diaries, Puppy Place, and the "Who Was . . .?" series

Juvenile non-fiction

Books about animals, construction equipment, crafts, fairy tales, folklore, drawing, dinosaurs, LEGOS, nursery rhymes, space, sports, trucks, and trains.

Poetry collections by Julie Andrews, Caroline Kennedy, Jack Prelutsky and Shel Silverstein

Educational activity books, coloring books, pop-up books, lift-the-flap books

Tween and Teen fiction, including the newest titles in popular romance, mystery, adventure, fantasy, and science fiction series by Gayle Forman, Stuart Gibbs, Chris Grabenstein, John Green, Erin Hunter, Pittacus Lore, Mike Lupica, Chris Lynch, Brandon Mull, Lauren Oliver, R. J. Palacio, James Patterson, Lincoln Pearce, Jason Reynolds, Ransom Riggs, Rick Riordan, Brian Selznick, and Maggie Stiefvator.
Why should the books be donated unwrapped?
The Service Club members will look at each book and sort them into categories by age levels and subject areas. Then they will match the titles to the reading levels and interests of the children whose families are receiving Christmas baskets. Feel free to enclose a bookmark, note or card.
OTHER WAYS TO HELP
* Help your children earn money towards the purchase of the gift books.
* Encourage your children to make your family's selections of titles to donate.
* Encourage your clubs and organizations to participate.
* Encourage your children's classes to participate.
---
Designed for 20 children
ages 18 months to 5 years
and their caregivers.
Presented by STORYBOOK ARTVENTURE Guides
Caryn Sieler and Valorie Veld of Lenawee's Heart & Soul, Children's Art and Music Studio

ADVENTURE THROUGH A STORYBOOK AND INTO ART!
Join us on a STORYBOOK ARTVENTURE
where we link literature to art.
We will jump into a great storybook and come out ready to create.
Each child will have the opportunity to make and take home
an art project inspired by the featured story.
Five FREE SESSIONS WILL BE PRESENTED IN 2018-2019:
Monday Mornings in Meeting Room A
on the library's lower level. (An elevator is available.)

10:30 - 11:00 a.m.

REGISTRATION REQUIRED
for each session!
A Waiting List will be available, if needed.

THEME for 2018 - 2019: FAIRY TALES

October 29, 2018
The Magic Porridge Pot by The Brothers Grimm


December 10, 2018
The Princess and the Pea by Rachel Isadora
Click HERE to register


January 14, 2019
(Snow date, if needed: March 4, 2019)
The Ant and the Grasshopper by Blake Hoena
Click HERE to register

April 15, 2019
The Ugly Duckling by Hans Christian Andersen
Click HERE to register

May 6, 2019
To be determined
Click HERE to register


~~~~~~~~~~~~~~~~~~~~~~~~~~~~~~~~~~~~~~~~~~~~~~~~~~~~~~
Featured Book for our second session in December

Summary:
A simplified version of the fairy tale in which
a girl proves that she is a real princess by feeling a pea
through twenty mattresses and twenty featherbeds.
Featured Art Focus for December:
Paper collage mattresses and pea

~~~~~~~~~~~~~~~~~~~~~~~~~~~~~~~~~~~~~~~~~~~~~~~~~~~~~~~~~~~~~~~~~~~~
STORYBOOK ARTVENTURE GUIDES

Caryn Sieler
Caryn is a music and movement specialist and the owner of Lenawee's Heart & Soul. She will begin each session with a song or chant.

Valorie Veld
Valorie is an early childhood educator and the art teacher/director at Lenawee's Heart & Soul. She will be the storyteller and art project presenter and guide for each session.
For more biographical information, visit their website at www.lenaweesheartandsoul.com
This fourth year of programs is sponsored by a generous, anonymous donor
and coordinated by Mary Beth Reasoner, Children's Librarian
Caryn, Valorie and Mrs. Reasoner all value the important role the arts play
in the lives of young children!
---
AFTER SCHOOL HOLIDAY CRAFTS PROGRAMS
FOR THIRD AND FOURTH GRADERS!

Third and Fourth Graders are invited to five After School Make and Take Holiday Craft Programs. Due to popular demand, two identical classes are being offered for each session: You may choose to attend either the Wednesday or the Thursday class of each session. All classes will meet from 4:00 p.m. - 5:00 p.m. in Imagination Station!
SESSION DATES
December 12th and 13th - Christmas Crafts
February 6th & 7th - Winter and Valentine's Day Crafts
March 6th & 7th - St. Patrick's Day and Easter Crafts
April 10th & 11th - Mother's Day, Father's Day and Patriotic Crafts
Registration is required!

Call 517-423-2238 or click
HERE
to register for each individual session on the calendar.
---
Join Mrs. Reasoner for fun with
Stories, Poems, & Songs
---

Programs are held in Imagination Station located on the main floor of the library in the Children's Section.

Each program begins promptly at 6:45 p.m. and ends at 7:30 p.m.

---

Registration Required

Registration for each Story Time will be limited to 20 children and their adult caregivers.

Registration has begun!

Call 423-2238 to sign-up for each individual program you wish to attend or register online.

---

Story Times are designed for three-year-olds through second graders.
Mrs. Reasoner will share both new and classic stories, fingerplays, poems, and songs.

---

Attendance at Library events constitutes consent to be photographed for use in print and/or electronic publicity for the Tecumseh District Library.

Snoozeville
A Pajama Story Time on Tuesday evening, September 25th

Wear your pj's or nightgown, robe, and slippers!

Features bedtime stories, lullabies, and nighttime tales of the moon and stars.

Click HERE to register online for this September program!

---

Shenanigans
A Halloween Story Time on Tuesday evening, October 30th

Wear your favorite Halloween costume but please leave the masks and props at home!

Features not-too-spooky tales of trick-or-treating, haunted houses, ghosts and creatures of all sorts!

Click HERE to register online for this October program!

---

Harvest Of Friendship
A Thanksgiving Story Time on Tuesday evening, November 20th
Wear your favorite fall colors! Features cozy tales of friendship and families.

Click HERE to register online for this November program!

---

A Stockingful of Joy

A Holiday Story Time on Tuesday evening, December 18th

Wear your favorite holiday colors! Features stories of Santa Claus & his reindeer and the winter season.

Click HERE to register online for this December program!

Participation Guidelines

Adults and children eager to listen to stories, sing songs, and recite poems are welcome.

Story Time Classroom Visits - Fall 2018

Tales and tunes for preschools and kindergarten through fourth grade classes are available upon request.

Contact Mrs. Reasoner to schedule her visit full of stories, songs and poetry.
Courtesy Guidelines
The focus of everyone in the room during Story Time is centered on the children and the program.
Thus, all communication devices need to be turned off.
Please feel free to take any children who are restless or disruptive out of Imagination Station until they are ready to rejoin us.I appreciate your cooperation and consideration for the other audience members and myself.
If you don't plan to attend Story Time with your child, please remain in the building!
For your child's sense of well-being, be present outside Imagination Station as Story Time ends, so your child may be picked up promptly.
Your respect for these guidelines enhances my ability to conduct an enjoyable Story Time for the children!
Thank you!
Mrs. Reasoner
Children's Librarian
---
A Free 30-minute program featuring short solo selections
by musicians from the Adrian Symphony Orchestra.
Caryn Sieler, a music and movement specialist
and owner of Lenawee's Heart & Soul,
will be leading the programs with interactive themes
which include rhymes, songs and picture books
that encourage children to sing, clap, move and listen carefully.

A family program designed especially for 50 children
ages 2-years-old to 6-years-old and their caregivers.


~ Saturday, April 13, 2019 ~

THEME: UNICORNS AND HORNS


Featured Book and Musicians will be announced soon!
THREE different times at THREE locations:

9:30 a.m. at Stair District Library in Morenci (458-6510)
11:30 a.m. at Adrian District Library (265-2265)
1:30 p.m. at Tecumseh District Library (423-2238)
Registration is required for EACH program
at the location you plan to attend due to limited space!

Registration has begun!
~~~~~~~~~~~~~~~~~~~~~~~~~~~~~~~~~~~~~~~~~~~~~~~~~~~~~~~~~~~~~~~~~~~~~~~~~~~~~~~~
"Music Moves Me" is fully funded through ASO sponsorships,
Art Works-National Endowment for the Arts and
a grant from the Michigan Council for Arts & Cultural Affairs Minigrant program.
It is administered by the Arts Alliance of Ann Arbor.
| | | |
| --- | --- | --- |
| | | |
| | | |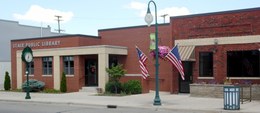 Stair District Library in Morenci
---
The Library of Michigan is pleased to announce the inaugural
"Ready to Read Michigan" book selection I Got the Rhythm
written by Connie Schofield-Morrison
and illustrated by Frank Morrison.

A mother and daughter walk to the park,
with joyous music guiding the action of their walk as everyone
from the butterflies to the vendors join in.

Using onomatopoeia for effect, the rich vibrancy of the music around us is captured in this rhyming book that encourages children to encourage their own self-expression and be physically active too.
MEET THE AUTHOR: Connie Schofield-Morrison

Connie Schofield-Morrison

spent most of her childhood
reading and writing poetry, songs, and fairy tales.
At the age of 19, Connie married her high school sweetheart Frank D. Morrison, a professional dancer.
In 1999 Frank & Connie started their online art gallery, Morrison Graphics, which opened as a physical gallery in 2005 in the Old Fourth Ward of Atlanta, GA.
Frank painted and illustrated, while Connie continued to take care of the business, their home, and their children, while writing children's books in her spare time.
Her debut Bloomsbury Press title, I Got the Rhythm, is her first collaboration with husband and illustrator, Frank Morrison. The book is a rhythmic, soulful affirmation that a dream can become a reality,
a belief that Connie has seen play out in her own life.
See more biographical information at this website.
~~~~~~~~~~~~~~~~~~~~~~~~~~~~~~~~~~~~~~~~~~~~~~~~~~
MEET THE ILLUSTRATOR: Frank Morrison
Growing up in New Jersey, Frank Morrison began developing his own style through 'R.I.P' art scenes that brought him considerable street recognition and local acclaim. But it wasn't until he visited the Louvre Museum in Paris with his dancing group, that he realized painting was his true creative path.

His talent and hard work paid off with over 20 illustrated children's books, including the Coretta Scott King/John Steptoe Award winner, Jazzy Miz Mozetta and the Coretta Scott King Illustrator Honor book, Little Melba and her Big Trombone.
For more examples of his illustrations,
visit this website.



~~~~~~~~~~~~~~~~~~~~~~~~~~~~~~~~~~~~~~~~~~~~~~~~~~~~~~~~~~~~~~~~~~~~~~~~~~~~~~~~~~~~~
The Story of "READY TO READ MICHIGAN"
The Library of Michigan's Ready to Read Michigan program encourages reading aloud regularly to children during the early stages of life (birth up to age 5), as it ensures the development of early literacy skills and instills a love of reading. The program is designed for public librarians to model early literacy skill development directly to families and engage in outreach to early childhood centers, classrooms and daycares throughout their community.
Support
This program is made possible by grant funds
from the U.S. Institute of Museum and Library Services (IMLS) administered by the State of Michigan through the Library of Michigan.
Additional support provided by Bloomsbury Publishing, Consumers Energy
and the Library of Michigan Foundation.

More information about "Ready to Read Michigan!" including materials for parents, teachers and caregivers is available at this link:
2018 Ready to Read Michigan Programming and Resource Guide.
---