2019 All-County Bookmark Contest
Theme to illustrate: A Universe of Stories
Tecumseh District Library (TDL) is participating in the 48th All-County Bookmark Contest sponsored by the Lenawee District Library. The Bookmark Contest is a long-standing tradition at Lenawee District Library and its branches and expanded in 2007 to include independent libraries from throughout the county.
The winning entries from TDL will be entered in the "Best of Lenawee" Bookmark Contest, along with winning entries from other participating libraries in the county from Addison, Adrian, Blissfield, Britton, Clayton, Clinton, Deerfield, Hudson, Morenci, and Onsted, as well as the Lenawee District Library.
Entry Information

Open to students living or attending school in Lenawee County

Official entry forms are available near the Circulation Desk and in the Children's, Tween, and Teen areas or may be downloaded by clicking HERE.

The design must be original. Please do not trace or or copy images or use a computer to create the design.

All entries must be drawn in BLACK &WHITE and submitted on the official entry form - NO COLORS!

Participant's name, personal address, personal phone number, school and grade MUST be complete and readable. Incomplete entries will not be judged.

This year's theme is:
"A UNIVERSE OF STORIES".

The winning entries will be judged on the basis of

originality

neatness

how well the design illustrates the theme

Entries may be turned in at the front Circulation Desk through Sunday, March 31st, at 5 p.m.

Quick Tips

Practice your design first on other sheets of paper.

Completely erase all unwanted pencil marks.

You must use the stated theme.

Make sure that the words in your design can be easily read.

Use your best penmanship!

Selection of Winners

Two winners will be chosen by library staff members from each of the following four grade categories:

Kindergarten, 1st Grade & 2nd Grade

3rd Grade & 4th Grade

5th Grade & 6th Grade

7th Grade through 12th Grade

Winners will be notified by mail during the week of April 18th.

The winning entries will be entered into the "Best of Lenawee" Bookmark Contest for a chance to win a

$100.00 gift card.

Recognition

Each of TDL's eight winners will receive

a certificate of achievement,

printed copies of their bookmark,

an invitation to a special Awards Program held in their honor at the Madison School District Performing Arts Center near Adrian on Saturday, April 27th at 2 p.m. featuring magician Cameron Zvara.

A highlight of the Awards Program will be the announcement of the "Best of Lenawee" Bookmarks.
For More Information
For more information, contact Mary Beth Reasoner, Children's Services Librarian, at 423‑2238 or e-mail mbreasoner@tecumsehlibrary.org
---
AFTER SCHOOL HOLIDAY CRAFTS PROGRAMS
FOR THIRD AND FOURTH GRADERS!

Third and Fourth Graders are invited to five After School Make and Take Holiday Craft Programs. Due to popular demand, two identical classes are being offered for each session: You may choose to attend either the Wednesday or the Thursday class of each session. All classes will meet from 4:00 p.m. - 5:00 p.m. in Imagination Station!
SESSION DATES
April 10th & 11th - Mother's Day, Father's Day and Patriotic Crafts
Registration is required!

Call 517-423-2238 or click
HERE
to register for each individual session on the calendar.
---
A Free 30-minute program featuring short solo selections
by musicians from the Adrian Symphony Orchestra.
Caryn Sieler, a music and movement specialist
and owner of Lenawee's Heart & Soul,
will be leading the programs with interactive themes
which include rhymes, songs and picture books
that encourage children to sing, clap, move and listen carefully.

A family program designed especially for 50 children
ages 2-years-old to 6-years-old and their caregivers.

"Drummin' to the Beat of the City Street"

~ Saturday, April 13, 2019 ~

Featured Musicians:

Dan Kesterke
will be playing his Percussion Instruments
and
Wynne Marsh
will be playing her keyboard.

Featured Book told by Caryn Sieler:


From morning's joggers until night's last train, a boy notices and enjoys the many sounds made by people and things in a big city.
THREE different times at THREE locations:

9:30 a.m. at Stair District Library in Morenci (458-6510)
11:30 a.m. at Adrian District Library (265-2265)
1:30 p.m. at Tecumseh District Library (423-2238)
Registration is required for EACH program
at the location you plan to attend due to limited space!

To register for each individual session you wish to attend at TDL,
(Online registrations will receive an automatic confirmation.)
~~~~~~~~~~~~~~~~~~~~~~~~~~~~~~~~~~~~~~~~~~~~~~~~~~~~~~~~~~~~~~~~~~~~~~~~~~~~~~~~
"Music Moves Me" is fully funded through ASO sponsorships,
Art Works-National Endowment for the Arts and
a grant from the Michigan Council for Arts & Cultural Affairs Minigrant program.
It is administered by the Arts Alliance of Ann Arbor.
| | | |
| --- | --- | --- |
| | | |
| | | |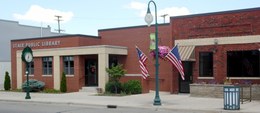 Stair District Library in Morenci
---
Designed for 20 children
ages 18 months to 5 years
and their caregivers.
Presented by STORYBOOK ARTVENTURE Guides
Caryn Sieler and Valorie Veld of Lenawee's Heart & Soul, Children's Art and Music Studio

ADVENTURE THROUGH A STORYBOOK AND INTO ART!
Join us on a STORYBOOK ARTVENTURE
where we link literature to art.
We will jump into a great storybook and come out ready to create.
Each child will have the opportunity to make and take home
an art project inspired by the featured story.
Five FREE SESSIONS WILL BE PRESENTED IN 2018-2019:
Monday Mornings in Meeting Room A
on the library's lower level. (An elevator is available.)

10:30 - 11:00 a.m.

REGISTRATION REQUIRED
for each session!
A Waiting List will be available, if needed.

THEME for 2018 - 2019: FAIRY TALES

October 29, 2018
The Magic Porridge Pot by The Brothers Grimm

December 10, 2018
The Princess and the Pea by Rachel Isadora

January 14, 2019
The Ant and the Grasshopper by Blake Hoena

April 15, 2019
The Ugly Duckling by Hans Christian Andersen;
Story retold by Janet Brown
Click HERE to register

May 6, 2019
The Princess of Tears by Reesa Grace
Click HERE to register


~~~~~~~~~~~~~~~~~~~~~~~~~~~~~~~~~~~~~~~~~~~~~~~~~~~~~~
Featured Book for our fourth session in April

Summary:
An enchanting retelling of a classic tale about the little duck who becomes a swan, with bright and imaginative drawings.
Featured Art Focus for April:
Paper cup ducklings

~~~~~~~~~~~~~~~~~~~~~~~~~~~~~~~~~~~~~~~~~~~~~~~~~~~~~~~~~~~~~~~~~~~~
STORYBOOK ARTVENTURE GUIDES

Caryn Sieler
Caryn is a music and movement specialist and the owner of Lenawee's Heart & Soul. She will begin each session with a song or chant.

Valorie Veld
Valorie is an early childhood educator and the art teacher/director at Lenawee's Heart & Soul. She will be the storyteller and art project presenter and guide for each session.
For more biographical information, visit their website at www.lenaweesheartandsoul.com
This fourth year of programs is sponsored by a generous, anonymous donor
and coordinated by Mary Beth Reasoner, Children's Librarian
Caryn, Valorie and Mrs. Reasoner all value the important role the arts play
in the lives of young children!
---
The Library of Michigan is pleased to announce the 2019
"Ready to Read Michigan" book selection Touch the Brightest Star
written and illustrated by Christie Matheson

This interactive bedtime story proves nighttime isn't scary at all.
The gentle journey from sunset to sunrise shows even the youngest children the magic of the nighttime sky - and lets them make magic happen!

With lush, beautiful watercolors and cut-paper collage, Christie Matheson reveals the magic of the nighttime sky, using toddler-perfect interactive elements.

Wave good-bye to the sun, gently press the firefly, make a wish on a star,
rub the owls on their heads, and ... shhhh!
No two readings of this book with its gentle soothing rhythm will be the same.

MEET THE AUTHOR & ILLUSTRATOR: Christie Matheson


Christie Matheson
is the author of the acclaimed picture books
Tap the Magic Tree
,
Bird Watch,
and
Plant the Tiny Seed.
Her three young children like to take her birding in the Presidio of San Francisco.
~~~~~~~~~~~~~~~~~~~~~~~~~~~~~~~~~~~~~~~~~~~~~~~~~
The Story of "READY TO READ MICHIGAN"
The Library of Michigan's Ready to Read Michigan program encourages reading aloud regularly to children during the early stages of life (birth up to age 5), as it ensures the development of early literacy skills and instills a love of reading. The program is designed for public librarians to model early literacy skill development directly to families and engage in outreach to early childhood centers, classrooms and daycares throughout their community.
Support
This program is made possible by grant funds
from the U.S. Institute of Museum and Library Services (IMLS) administered by the State of Michigan through the Library of Michigan.
Additional support provided by Bloomsbury Publishing, Consumers Energy
and the Library of Michigan Foundation.

More information about "Ready to Read Michigan!" including materials for parents, teachers and caregivers is available at this link:
2019 Ready to Read Michigan Programming and Resource Guide.
---